Away from the highway and back to nature: with Stayokay's group accommodation, you will discover the Netherlands in a surprising, affordable way.
The accommodations can be found in beautiful locations and will guarantee an amazing time with your group.
From the Veluwe to Amsterdam
You'll find our hostels throughout the Netherlands, from the green of the 'Veluwe' to the bustle of Amsterdam. Located in the most beautiful surroundings which we know like the back of our hand, we'll gladly help out and provide your group with tips!
We're available to sports groups, friend groups, schools; you name it! You can simply book a couple of rooms or – if you think big – even book the entire hostel. Whether you're visiting us for a weekend of training, rehearsing with your band or it's just time for a nice weekend with friends: we've got you covered.
Good to know: for 21 or more people, you can request a group booking.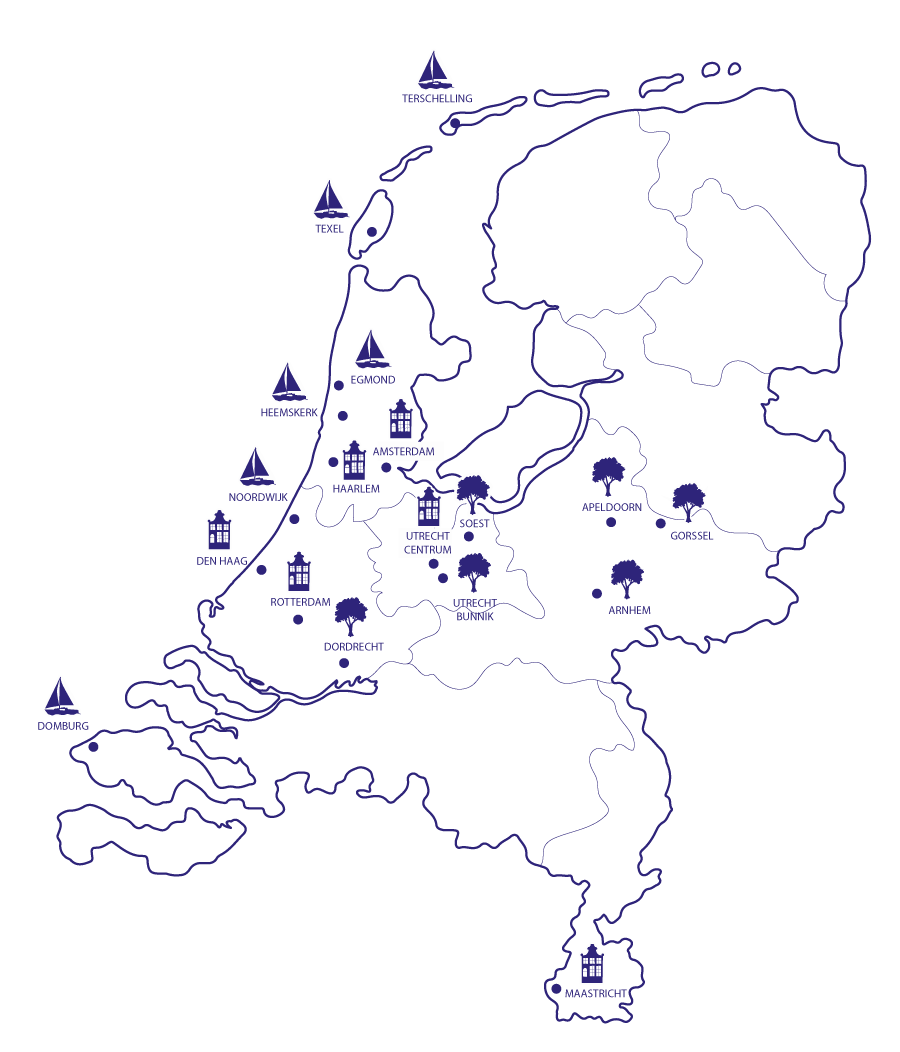 Why Stayokay?
Whatever your wishes, we always think along with you and make sure that everything is taken care of. We can help you with the following, among other things:
Choice of suitable locations
Room layout
(Education) package deals
(Educational) activities: sports, outdoor or just cultural
Lunch to go? We'll take care of it!
Multi-purpose halls
Last but not least: our chefs can cook gluten-free and vegetarian meals on request.
Go for green
From breakfast to the waste bin and company clothing to the (bunk) bed: you'll find sustainable choices everywhere. You can sleep well with that thought, right?
Sustainable travel?
Sustainable travel starts before you check in at the hostel, you can also make the road to your destination more sustainable in many ways. How about a ride on the train? With the NS Group Ticket 🚉 it's not only environ­mentally conscious, but also cheaper!
We're also happy to advise you on sustainable group activities around our hostels. This way you get the most out of your sustainable holiday and we keep the ecological footprint as low as possible.
Where can you find us?
Our group accommodations are spread around the Netherlands. Wherever you want to go, a Stayokay hostel is always close-by. If you stay with us, you can always count on a fully-catered accommodation in the most special buildings. For example: stay in one of the famous Cube Houses in Rotterdam or in a beautiful manor in the countryside. It's all possible at Stayokay.
Did you know that you can even rent an entire hostel in certain locations? Read more here.
Contact us or request your stay
Requesting a stay for 21 people or more? Then fill in the form below.
Fewer than 21 people? Then you can book your stay via the online booking process.
Loading...
-->