About this hostel
Stayokay Heemskerk is located in a 13th-century castle: Sleep like a true castle lord or lady!
Read more about this hostel
In the hostel
This 13th-century castle, Slot Assumburg, is a sight to see! A large entrance, lavish halls, the moat, it's all truly bewitching. A lovely and sizeable garden can be found behind the castle, a wonderful place to relax.
You can book a shared or private room. Each room has its own shower and toilet, and a princely breakfast buffet awaits you every morning. Did you know that we're also sustainable? We work with many different organic products and you can find myriad herbs in the garden.
Show less
Stayokay Heemskerk
Sleep like a baby
https://www.stayokay.com/en/hostel/heemskerk
Check-in 15:00
Check-out 10:30
Tolweg 9,
1967 NG
Heemskerk
Route
What to expect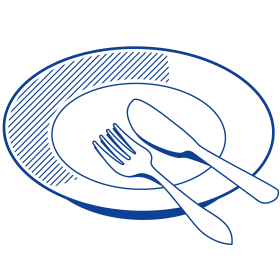 Restaurant & Bar

Bicycle Rental

Breakfast included

Free parking
Free WiFi
Luggage storage
Baby beds*
Lockers in room
* Subject to availability and confirmation by the hostel prior to arrival.
Breakfast: 08:00 - 09:30
Dinner: 18:00 - 19:00
From Beverwijk train station take bus 72 and get off at the Jan van Kuikweg stop, just 200 m from the hostel. You can also take a special 'train taxi' for a fixed price or regular taxi from Beverwijk station.
Heemskerk station is a 20-minute walk from the hostel, but with no bus or train taxi service.
From the A9 Haarlem / Alkmaar, exit Heemskerk, follow the signs to Heemskerk. Follow at the distributor center. At the first traffic light to the left, after 300 m, the hostel is on the left between the trees.
There is plenty of free parking space next to the hostel.
Local hot spots
Delightful as the castle may be, the surroundings also have a lot to see. How convenient! Because Heemskerk is very centrally located. Visit our capital Amsterdam, experience nature in the Kennemer dunes, or spend a leisurely day strolling the coastline. How about going shopping in Beverwijk, the largest roofed market of Europe?
Good to know
You'll be given bed linen upon arrival to make your own bed. Towels are not included but can be rented at the hostel.
Children aged 2 and under stay for free.
Children aged 12 and under are only allowed in private rooms.
Guests under the age of 16 must be accompanied by an adult (18+).
Guide dogs are allowed in private rooms. Pets are not permitted.
Attention: The hostel is accessible until midnight, and the front doors are locked after this time.
Are you ready for your adventure?
Find your room and book on Stayokay.com for the best price, guaranteed.