About this hostel
Stay the night in the renowned Cube houses in the second largest city of the Netherlands. Discover architecture, art, and culture!
Read more about this hostel
Sleeping in the Cube Houses
Always been curious about what it's like to sleep in a cube house? Indulge that curiosity at Stayokay Rotterdam! The higgledy-piggledy art of Piet Blom has been the definitive eye catcher of the city for 30 years now.
In the hostel
Stayokay Rotterdam puts an interesting roof over your head during your city break. You can enjoy a hearty breakfast, lunch, and dinner in the restaurant. Check out our menu to see our sustainable offerings!
Our modern bar is a great place to have a delicious drink and to meet other travellers. You can book a shared or private room. And the cool thing is: each room is unique because you're sleeping in a work of art!
Show less
Stayokay Rotterdam
A Skyline of Opportunities
https://www.stayokay.com/en/hostel/rotterdam
Check-in 14:00
Check-out 11:00
Overblaak 85-87,
3011 MH
Rotterdam
Route
What to expect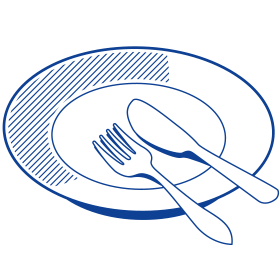 Restaurant & Bar
City center

Bicycle Rental
Breakfast included
Local hot spots
Rotterdam is a truly metropolitan city, but the hostel's location makes everything easily accessible. Discover the Markthal, go look at art in de Kunsthal or settle in somewhere in the cosy Oude Haven. Also be sure not to miss out on the creative Witte de Withstraat, it's amazing!