ROTTERDAM MAKING AN IMPACT!
Host: Andrea
+31 (0)10 436 57 63
rotterdam@stayokay.com
Overblaak 85-87
3011 MH Rotterdam
Check-in 14:00 - 0:00
Check-out 11:00
Stayokay Rotterdam
A Skyline of Opportunities
https://www.stayokay.com/en/hostel/rotterdam
Rotterdam: the city with various perspectives. This city does not do 'tidy' and is perfectly imperfect. Buildings and their surroundings completely flow into each other. Every street in this city is different, with various shapes, sizes and corners. Our hostel is a perfect example of this. On the one hand, it is hidden among architect Piet Blom's famous Cube Houses but, on the other hand, the hostel shines with its unique curves.
Stay the night in a work of art
The great thing about this hostel is that you feel like a guest in your own home. It creates an oasis of tranquillity, and you go wherever you please. Even though staying in would be fun too, you know that you have no time to lose to go out and about. You will feel like you are in the Dutch Sex and the City – a skyline of opportunities and a city where you want to be awake 24/7.
In the middle of the hostel, you are surrounded by large windows that are luring you outside – into the city! You can see the business world on your left, with long roads and people with ambitions. On your right, you can see the harbour with old boats, colourful cafés and old buildings that show how different Rotterdam would have been if there hadn't been any wars. But when you look ahead, you will see strong innovation: architecture, art and the diverse, striking shapes.
What to expect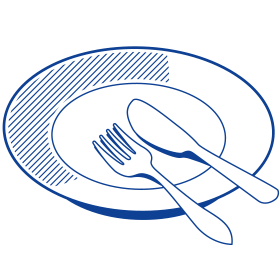 Restaurant & Bar
Breakfast included

Bicycle Rental
Guest rating
Amazing architecture, great choice for enjoying one night in one of the famous cubic houses

Quinn

Pleasant stay and definitely will return to this hostel!

Jeihan