About this hostel
Stay the night in the renowned Cube houses in the second largest city of the Netherlands. Discover architecture, art, and culture!
Read more about this hostel
Sleeping in the Cube Houses
Always been curious about what it's like to sleep in a cube house? Indulge that curiosity at Stayokay Rotterdam! The higgledy-piggledy art of Piet Blom has been the definitive eye catcher of the city for 30 years now.
In the hostel
Stayokay Rotterdam puts an interesting roof over your head during your city break. You can enjoy a hearty breakfast, lunch, and dinner in the restaurant. Check out our menu to see our sustainable offerings!
Our modern bar is a great place to have a delicious drink and to meet other travellers. You can book a shared or private room. And the cool thing is: each room is unique because you're sleeping in a work of art!
Show less
Stayokay Rotterdam
A Skyline of Opportunities
https://www.stayokay.com/en/hostel/rotterdam
Check-in 14:00
Check-out 11:00
Overblaak 85-87,
3011 MH
Rotterdam
Route
What to expect

City centre

Breakfast included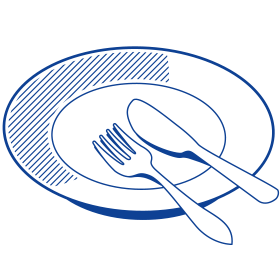 Restaurant & Bar

Bicycle Rental
Free WiFi
Luggage storage
Credit cards accepted
Wheelchair accessible rooms
Cot / extra bed on request*
Lockers available**
* On request and to be confirmed by the hostel.
** Lockers in the lobby for 2 to 4 euros per 24 hours.
Breakfast is available weekdays from 07:30-09:30 am, and weekends from 08:00-10:00 am.
Pizza & snacks are available daily at the bar until 11:00 pm.
Public transport
To the very distinctive Cube Houses
The Rotterdam hostel is located just around the corner of the Rotterdam Blaak railway station. You will see the Cube houses immediately when exiting the station. When travelling via Rotterdam Central Station, you can travel by either train or tram (line 21) to Rotterdam Blaak. Once you see the distinctive yellow cubes, read the directions under the heading 'Finding the hostel on foot'.
There are small squares in between the cubes. As you walk upwards between the cubes, you will cross lots of these squares and you will be led automatically to Stayokay at number 85. Don't worry, just follow the path upwards and you'll get there; we promise!
By car
We do advise our visitors to come by public transport
If you do come by car, there is paid parking in the streets around the hostel. We advise you to park in the parking garage "Oude Haven". To do so, hold on to Burgemeester van Walsumweg 718 in your navigation. There are charging stations in the area around the hostel where you can charge your electric car.
You can also use a number of Park and Ride (P+R) car parks in Rotterdam. For directions see rotterdam.nl/parkeren.
Local hot spots
Rotterdam is a truly metropolitan city, but the hostel's location makes everything easily accessible. Discover the Markthal, go look at art in de Kunsthal or settle in somewhere in the cosy Oude Haven. Also be sure not to miss out on the creative Witte de Withstraat, it's amazing!
Good to know
Stayokay Rotterdam is in a beautiful location, but well-hidden, so read the directions carefully. No worries if you get lost though, just give us a shout on +31 (0)10 436 5763 and we'll help you find us.
You'll be given bed linen upon arrival to make your own bed. Towels are not included but can be rented at the hostel.
Children aged 2 and under stay for free.
Children aged 12 and under are only allowed in private rooms.
Guests under the age of 16 must be accompanied by an adult (18+).
Guide dogs are allowed in private rooms. Pets are not permitted.
Reservation and stay on the same day is possible until 22:30.
Are you ready for your adventure?
Find your room and book on Stayokay.com for the best price, guaranteed.