About this hostel
The best of both worlds: Natural beauty and city comforts! Stay the night in this stunning hostel, surrounded by nature and less than 5 km from the centre of Utrecht.
Read more about this hostel
In the hostel
Welcome to this stunning location amidst the natural beauty of the Rhijnauwen. The hostel has various different restaurants and offers both shared and private bedrooms. The adjacent coach house is home to a cosy café and terrace, a great place to meet locals on sunny days. Check out our menu to see our selection of local, vegetarian, and sustainable products! Stayokay Utrecht - Bunnik is also a gorgeous venue for weddings, parties, and business events.
By the way, did you know that even the smallest of guests are welcome here? Because we've built an insect hotel next to the hostel.
Show less
Stayokay Utrecht - Bunnik
A stately night's rest in the forest
https://www.stayokay.com/en/hostel/utrecht-bunnik
Check-in 15:00 - 22:00
Check-out 10:00
Rhijnauwenselaan 14b,
3981 HH
Bunnik
Route
What to expect

Breakfast included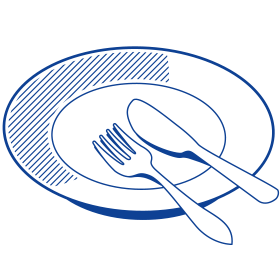 Restaurant & Bar

Free parking

Bicycle Rental
Free WiFi
Luggage storage
Café with terrace
Lockers in the rooms*
Baby beds**
Credit cards accepted
* Please bring your own padlock.
** Subject to availability and confirmation by the hostel.
Breakfast: 07.30 - 09.30 am
Bar/café: 09.00 - 22.00
Kitchen open: 12.00 - 20.00
Take the Bunnik exit on the A12 from Utrecht to Arnhem. Follow the provincial road through Bunnik towards Utrecht. Immediately after Bunnik, take the Rhijnauwen exit. After 400 m you will see the hostel.
You can park for free close to the hostel.
Local hot spots
You can coast along in a canoe on the 'Kromme Rijn'. How about climbing the renowned Domtoren? Prefer to keep your feet on solid ground? In that case, you can't go wrong with a visit to the castle and estate De Haar!
Good to know
You'll be given bed linen upon arrival to make your own bed. Towels are not included. These can be rented at the hostel.
Children aged till 2 years stay for free.
Children 12 and under are only allowed in private rooms.
Guests under the age of 16 must be accompanied by an adult (18+).
Guide dogs are allowed in private rooms. Pets are not permitted.
Are you ready for your adventure?
Find your room and book on Stayokay.com for the best price, guaranteed.