About this hostel
Water and nature, sports and the city, Stayokay Dordrecht has it all. With De Biesbosch as your backyard and the city within biking distance, a delightful holiday is assured.
Read more about this hostel
In the hostel
Stayokay Dordrecht was fully renovated in 2018 and most certainly worth a visit. The bar and lounge are cosy meeting places and there's a large terrace with a scenic view of nature behind the hostel. The bedrooms have their own shower and toilet. And you can enjoy a delicious, varied breakfast buffet every morning. Did you know that we have our own beehives and that we produce our own delicious honey? We also choose packaging-free products. Enjoyable and sustainable!
Fun tip: Have you heard about our Wikkelhouses yet? These four-person houses are made out of recycled cardboard, located smack dab in the middle of nature!
Show less
Stayokay Dordrecht
Discover historic Dordrecht
https://www.stayokay.com/en/hostel/dordrecht
Check-in 15:00 - 22:00
Check-out 10:00
Baanhoekweg 25,
3313 LA
Dordrecht
Route
What to expect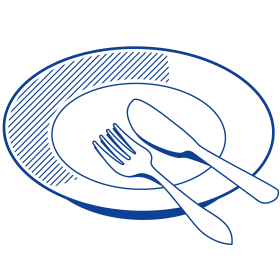 Restaurant & Bar

Bicycle Rental

Breakfast included

Laundry room
Free WiFi
Luggage storage
Baby beds*
Wheelchair accessible room
* Subject to availability and confirmation by the hostel.
Breakfast: weekdays from 07.30 - 09.30 & weekends from 07.30 - 10.30
Dinner: daily from 18.00 - 19.30
Public transport
From Dordrecht station
From Dordrecht railway station (8 km) you take bus 4 Staart. Get off at the Baanhoekweg stop. From here it is a 1.5 km walk to the hostel.
You can also order the door-stop taxi for the last part. You reserve the door-stop taxi at least one hour before departure, telephone 0900-7289965 (10 cpm) (choice menu 2 Drechtsteden, choice 1 door-stop taxi). This taxi will take you to the hostel at a regular rate from the bus stop. You can also take a taxi from Dordrecht station to the hostel (+/- € 16).
Private transport
Free parking
Take the Dordrecht exit (N3) off the A16. Then the De Hollandse Biesbosch exit. Take a right turn at the end of the slip road. The hostel is located 5 km further on. Take the Randweg Dordrecht exit off the A15. Then the De Hollandse Biesbosch exit. Take a right turn at the end of the slip road. The hostel is located 5 km further on.
Local hot spots
National Park De Biesbosch: The ideal place to wake up and spend your day. Hire a canoe to explore nature via the water. Got your heart set on the city already? In that case, visit the Dordtse Dom or discover the history of Dordrecht.
Good to know
You'll be given bed linen upon arrival to make your own bed. Towels are not included but can be rented at the hostel.
Children aged 2 and under stay for free.
Children aged 12 and under are only allowed in private rooms.
Guests under the age of 16 must be accompanied by an adult (18+).
Dogs are welcome from November to March. Add your dog in step 2 of your booking. Guide dogs are always allowed in private rooms.
Are you ready for your adventure?
Find your room and book on Stayokay.com for the best price, guaranteed.