Stayokay Dordrecht offers you and your family the ultimate opportunity to discover National Park De Biesbosch in many different ways. Prefer the city? The city of Dordrecht is also highly recommended!
Private room for up to 6 people (including bathroom)
Fun organised children's activities
Running around in and around the hostel is always allowed!
In the middle of nature
The place to be, because..
In the hostel

Personal and small-scale
Renewed hostel!
Shower and toilet in the rooms
Cots and chairs
Free WiFi
Children's activities during holidays and weekends
Free parking
View of the National Park de Biesbosch
Bike rental​

In the area

Experience Dordrecht from the water with an Italian boat trip
Climb the windmill and enjoy the best view of the city
Take a look at the sustainable city farm.
Back to school in the Onderwijsmuseum
Sail through National Park de Biesbosch
Take a ride with the Waterbus
Get to know your national history at Slot Loevestein
Cosy, safe and clear
''The children play in the playground, while I enjoy the view over De Biesbosch. So nice to see that all kids here become best friends. One of the nicest moments is the Saturday barbecue: an ideal moment to chat with each other at the water's edge. At Stayokay Dordrecht we stayed in a lovely family room, and of course, the kids sleep upstairs in the bunk bed.''
- Willem, father of 3
By bike!
Fancy a wonderful bike ride with the whole family? Get on a bike and discover how beautiful the Netherlands is. Rent a bike from us and explore the neighborhood at your own pace.
If you're looking for a nice cycle route, just let us know. We're happy to help!
Child discount
Children up to 3 years old stay for free, children up to 13 years receive a €4.50 discount per night. Plus 50% discount on meals.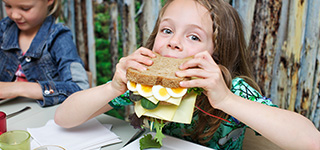 Family card
One card, plenty of discounts! For €25 per year, the whole family enjoys many discounts. For example, everyone gets a €2.50 discount per person per night, and you also enjoy discounts on, for instance, bicycles and bars.
The card can be requested online when making a booking or at the reception in a Stayokay hostel in the Netherlands.
Are you ready for your family adventure?
Find your family room and book on Stayokay.com for the best price, guaranteed.