About this hostel
Welcome to Egmond! Are you all about state of the art and sustainability? Then this hostel is the place to be. It's also nice and close to the beach and the Kennemer dunes.
Read more about this hostel
In the hostel
It's immediately apparent, both inside and out; this is an ultra-modern hostel. A beloved location for families, groups, and companies: all are welcome. There's a relaxed atmosphere, cosy bar, sunlit terraces and many possibilities with regards to activities for children and for sports. Breakfast, lunch, and dinner are enjoyable and sustainable.
Show less
Stayokay Egmond
Wonderful hostel just off the beach
https://www.stayokay.com/en/hostel/egmond
Check-in 15:00 - 23:00
Check-out 10:00
Herenweg 118,
1935 AJ
Egmond
Route
What to expect

Breakfast included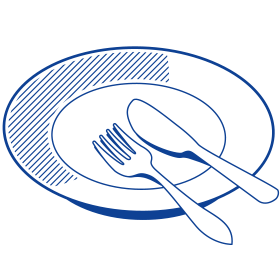 Restaurant & Bar

Bicycle Rental

Laundry room
Free WiFi
Luggage storage
Wheelchair accessible room
Baby beds*
* Subject to availability and confirmation by the hostel.
Breakfast: 08:00 - 10:00
The bus stop "Rinnegom" is next to or on the other side of the road, depending on which way you come. There are two bus lines at this stop, the 164 and 408. Both do not run on Sundays.
The 408 runs from Monday to Saturday from 09:00 to 17:00 from Heiloo station. Inform at Connexion if this line is working.
The 164 runs Monday to Friday from Castricum at these times 06:36 07:36 08:36 14:36 15:36 16:36 17:36.
The 165 goes 2 times an hour and in the evenings from Alkmaar to Egmond but then you have to walk another kilometer.
Note: you can not pay with cash in the bus. Provide a charged travel card or a credit card. Please always check your journey on 9292.nl.
Local hot spots
What makes this hostel so awesome is that everything is so close to you: Close to Alkmaar and Bergen, the Kennemer dunes, and the beach! The flower fields shouldn't be missed either.
Are you ready for your adventure?
Find your room and book on Stayokay.com for the best price, guaranteed.