Running, playing, fooling around; Stayokay Egmond means endless enjoyment for many families. Stay close to the dunes in a lovely modern family hostel!
Private room for up to 6 people (including bathroom)
Fun organised children's activities
Running around in and around the hostel is always allowed!
Centrally located between dunes and city.
The place to be, because..
In the hostel

Personal and small-scale
Shower and toilet in the rooms
Cots and chairs
Free WiFi
Children's activities during holidays and weekends
Parking lot
Large terrace and garden
Bike rental​

In the area

Bob along in a canoe or kayak
Enjoy a canal tour through Alkmaar
Do you prefer some privacy: rent a boat
A village walk through the fishing village Egmond
Tumbling off the Climbing dune in Schrool
North Sea activity: dredging on the coast
plenty to do
''In addition to the wonderful beach life there is plenty to do in the neighbourhood. For example, we visited the historic cheese market in Alkmaar and were immersed in the rich underwater life at the sea aquarium. In the hostel you can stay in a spacious family room, the kids always opt for the upper bunk bed. And in the 'living room' of Egmond you can play plenty of games or have a nice drink.''
- Jaqueline, mother of 2
Children Activities
In the school holidays the kids can enjoy many activities, how about:
> Old Dutch games
> Crafts
> Children's films
Would you like to know what is happening during your holiday? Send a mail to the hostel or ask at the desk.
Child discount
Children up to 3 years old stay for free, children up to 13 years receive a €4.50 discount per night. Plus 50% discount on meals.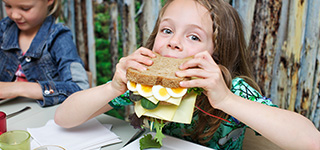 Family card
One card, plenty of discounts! For €25 per year, the whole family enjoys many discounts. For example, everyone gets a €2.50 discount per person per night, and you also enjoy discounts on, for instance, bicycles and bars.
The card can be requested online when making a booking or at the reception in a Stayokay hostel in the Netherlands.