Go on a quest for the treasure of the castle as the knight and princess. Children experience it at Stayokay Heemskerk. An ancient castle where knight stories come to life.
Private room for up to 6 people (including bathroom)
Fun organised children's activities
Running around in and around the castle is always possible!
In the middle of nature
The place to be, because
In the hostel

Personal and small-scale
Shower and toilet in the rooms
Cots and chairs
Free WiFi
Children's activities during holidays and weekends
Free parking space
Terrace, castle garden and children's playground
Bike rental​

In the area

On an adventure through antiquity
Walk through the gardens of Beeckestijn
Spot exotic animals
Pet animals at the petting zoo
Go on safari through the Kennemerduinen
All aboard at the Sea and Harbour Museum
picture perfect
"The castle of Heemskerk is beautiful. We can take the best photos here. In the French castle garden you can also have a wonderful picnic, enjoy playing or play table tennis. And at the end of the day you can enjoy dinner in the medieval dining room. Stayokay Heemskerk is the perfect family location. The children can't get enough of it!''
- Esmee, mother of 1
Children Activities
The kids can enjoy many activities, how about:
> Paint shields
> Treasure Hunt
> Create postcards
> Make bird houses
Would you like to know what is happening during your holiday? Send an email to heemskerk@stayokay.com or ask for the full programme during check-in.
Child discount
Children up to 3 years old stay for free, children up to 13 years receive a €4.50 discount per night. Plus 50% discount on meals.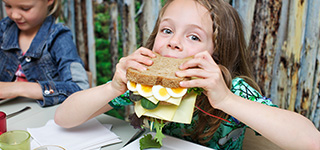 Family card
One card, plenty of discounts! For €25 per year, the whole family enjoys many discounts. For example, everyone gets a €2.50 discount per person per night, and you also enjoy discounts on, for instance, bicycles and bars.
The card can be requested online when making a booking or at the reception in a Stayokay hostel in the Netherlands.
Are you ready for your family adventure?
Find your family room and book on Stayokay.com for the best price, guaranteed.