Relax with the whole family! Enjoy the most beautiful view of the Wadden Sea from the terrace and discover one of the fascinating Wadden Islands with the kids. The island feeling guarantees a wonderful holiday.
Private room for up to 6 people (including bathroom)
Running around in and around the hostel is always allowed!
On perhaps the most beautiful spot on the island
The place to be, because..
In the hostel

Personal and small-scale
Shower and toilet in the rooms
Cots and chairs
Free WiFi
Children's activities during holidays and weekends
Free parking space
Terrace, garden and children's playground
Bike and tandem rental

In the area

Book a seal tour
Touring with the beach bus
Travel the island on an e-bike
Search for bunkers from WWII
With the kids to the coffee mill
Discover wonderful wreck finds
all about meeting
''The hostel is located on a dune, on one of the most beautiful spots on the island. Enjoy a drink here at the end of the day while the children run around endlessly. The hostel is all about meeting. Parents, children, it will be a nice gang in the summer. The Stayokay team organises everything for you and the family: catch crabs in the harbour or go on an exciting bunker treasure hunt.''
​- Meike, mother of 2
Children Activities
The kids can enjoy many activities, how about:
> Volleyball/bottle football tournaments
> Bingo
> Air hockey tournament
> Catch crabs in the harbour
Would you like to know what is happening during your holiday? Send a mail to the hostel or ask at the desk.
Child discount
Children up to 3 years old stay for free, children up to 13 years receive a €4.50 discount per night. Plus 50% discount on meals.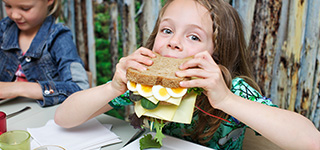 Family card
One card, plenty of discounts! For €25 per year, the whole family enjoys many discounts. For example, everyone gets a €2.50 discount per person per night, and you also enjoy discounts on, for instance, bicycles and bars.
The card can be requested online when making a booking or at the reception in a Stayokay hostel in the Netherlands.
Are you ready for your family adventure?
Find your family room and book on Stayokay.com for the best price, guaranteed.