The Stayokay team is ready for you and your family. Listen to the people who've already been here and take their word for it: on Zoover, Stayokay Soest scores a 9+ on child-friendliness.
Private room for up to 6 people (including bathroom)
Running around in and around the hostel is always allowed!
The hostel is directly adjacent to the dunes and the forest.
10 minutes walk to nature reserve De Soesterduinen
The place to be, because..
In the hostel

Personal and small-scale
Shower and toilet in the rooms
Cots and chairs
Free WiFi
Children's activities during holidays and weekends
Free parking space
Terrace, garden and children's playground
Bike rental​
Beach volleyball and football field
Campfire place

In the area

Bird watching and looking at art at Landgoed De Paltz
Float with a sloop on the Eemmeer
Pet the horses at Horse camp
Romp in the sand of the Soester dunes
Walk down the Gnome path
Gain some military knowledge in the National Military Museum
Visit the orange palace Soestdijk
a holiday full of activity
''Stayokay Soest offers everything you need for a wonderful family weekend. Around the hostel, you can play table tennis, beach volleyball or build real huts with branches from the forest. In short, the possibilities are endless. Also, during the summer holidays, the staff organise fun children's activities every day: from making kites to bottle football. In the meantime you can enjoy a delicious drink on the terrace.''
- Pascal & Fieke, grandparents of 3 grandchildren.
Children Activities
The kids can enjoy many activities, how about:
> Walking tour with guide
> Campfire with marshmallows
> Photo scavenger hunt
> Craft time
Would you like to know what is happening during your holiday? Send an email to soest@stayokay.com or ask for the full programme during check-in.
Child discount
Children up to 3 years old stay for free, children up to 13 years receive a €4.50 discount per night. Plus 50% discount on meals.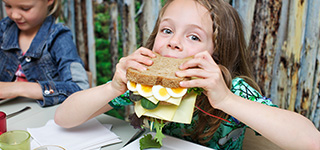 Family card
One card, plenty of discounts! For €25 per year, the whole family enjoys many discounts. For example, everyone gets a €2.50 discount per person per night, and you also enjoy discounts on, for instance, bicycles and bars.
The card can be requested online when making a booking or at the reception in a Stayokay hostel in the Netherlands.
Are you ready for your family adventure?
Find your family room and book on Stayokay.com for the best price, guaranteed.