We're very happy you're coming to stay here! Packed your bags yet? To make your stay even more fun, we've made a list of the most interesting and important info. And not to worry, we've also taken steps to ensure a safe stay.
Welcome

Stayokay Noordwijk
Langevelderlaan 45
2204BC Noordwijk
tel +31 (0)252 37 29 20
E-mail : noordwijk@stayokay.com
Check-in/out

YOUR HOST: Dennis
'My colleagues and I are looking forward to welcoming you at Stayokay Noordwijk!'
Check-in between 15:00 and 22:00
Check-out until 10:00
Don't forget your passport or ID!
Arriving early? We can store your luggage for you. Arriving late? Please contact us.
Food & drinks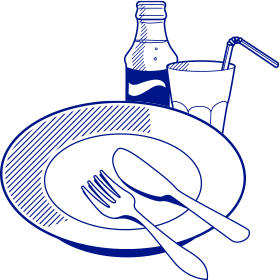 Restaurant, bar & terrace
The restaurant, bar and terrace are open until midnight at the latest.
You're welcome to enjoy breakfast, lunch and dinner.
Would you like to book the dinner? Please contact the hostel to book this in advance.
Do you have specific dietary requirements? No problem, just let us know in advance.
A coronavirus entry pass is not necessary for an overnight stay. But is necessary for a visit to the bar or restaurant.
GO LOCAL, RENT A BIKE
Stayokay Noordwijk is adjacent to the beautiful dunes and forest. Rent a bicycle from us and explore the surrounding area at your own pace. Just contact us, and we'll reserve one for you.
Are you looking for a fun new cycling route? Please let us know, we're happy to help!
Good to know
Each room has its own bathroom.
Towels, soap and shampoo are not included (except for family rooms, comfort rooms, theme rooms and Wikkelhouses).
Linens are always included. You have to make your own (bunk) bed (except for comfort rooms, theme rooms and Wikkelhouses).
Make it even better
No more room in your suitcase? You can rent a towel from us for €2 each.
Prefer a bit more luxury? Book a full-service package for €7 per person. We'll pamper you with a made-up bed, towel, shower gel, and shampoo.
Like to sleep in? Reserve our lazy checkout (until 12.00) for €7.50 per person or €15 per private room.
Would you like to make a reservation for something? Please get in touch with us, and we'll gladly help you out.
Up for a discount?
Do you have a Hostelling International card? Lucky you! That means you'll get a discount on your stay if you've booked via Stayokay.com or Hihostels.com.
Show your HI card and you'll get a €2.50 discount per night and 10% off at the bar and bike rental.
Don't have a HI card yet? You can purchase an e-membership at the Hostelling International website.
Only valid for bookings via Stayokay.com and Hihostels.com and when presenting your card.
Our best tips for your trip to Noordwijk
We've collected fun tips for your mini break! Please note: due to the coronavirus the visitor information may differ.